Are you a community health educator, outreach worker, public health professional, community or senior center program director, occupational health nurse, safety director, or employer looking for educational material on eye health and safety or seeking to understand more about age-related eye disease? These educational resources will help you better serve your patients, customers and constituents.
Healthy Eyes Presentation Series

Did you know that the annual cost of adult vision problems in the US is over $51 billion every year?  And that half of all blindness is preventable if eye disease is detected and treated early and 90% of all eye injuries could have been prevented.
Use the Healthy Eyes Educational Series to build awareness among your clients, co-workers, employees or cohorts of eye and vision basics, common adult vision disorders, eye safety precautions and proactive behaviors that give the best chance for a lifetime of healthy vision.
The modular program includes a Presenter Guide and Power Point on various eye health and safety topics that you can customize for your audience.  Modules include:
Eye Anatomy
Refractive Errors
Contact Lens Safety
Adult Eye Disorders
Low Vision
Home Safety
Sports Safety
Work Safety
If you would like to use modules from the Healthy Eyes Presentation Series for school or community eye health education, please submit a request to receive download instructions.
Glaucoma Educator Course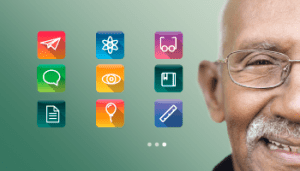 The Glaucoma Educator Course is a free, self-guided online course for healthcare professionals and community health educators. The course equips health educators with important patient education messages about glaucoma and strategies for maintaining healthy vision. The objective is to train communty health educators to deliver patient education about glaucoma and the methods for prevention and vision preservation to those who are at highest risk for developing glaucoma.