The Bonnie Strickland Champion for Children's Vision Award recognizes significant efforts by an individual or group of individuals to improve public health approaches for children's vision and eye health at the state or national level.  The award was established in 2014 by the National Center for Children's Vision and Eye Health Advisory Committee to commemorate Dr. Bonnie Strickland and her groundbreaking work to establish a comprehensive system for children's vision in the United States.  Strickland served as Director of the Division of Services for Children with Special Health Needs, Maternal and Child Health Bureau before her retirement in 2014.
The award will be presented to the recipient at the virtual Annual Meeting of the National Center for Children's Vision and Eye Health (Date in August or September TBD).  Due to the ongoing COVID-19 pandemic, the award will be presented virtually and the recipient will give a presentation virtually.
2020 Recipient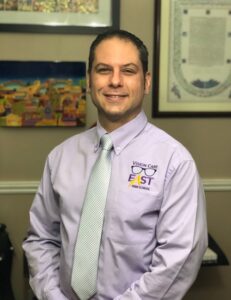 Logan Newman, NBCT, ABO, MS Ed, Program Developer and NYS Certified Science teacher and Career in Technical Experience Teacher at the East High School Vision Care Program.
Newman, a former US Navy medic with training as an optician, and current East High School science teacher, was selected by the all-volunteer Bonnie Strickland Champion for Children's Vision Award Committee in recognition of his innovative, educational and vocational approach to vision and eye care for disadvantaged and underserved youth in Rochester, New York.
Under Newman's direction, local volunteer eye care providers perform refractive examinations in the Rochester City schools for students who do not pass their school-based vision screening. Newman and his team of student-opticians have provided over 100 clinics for eyeglasses- including eyeglass selection, fitting, and dispensing- throughout Rochester City Schools. Prescription eyeglasses are provided free of charge. To date, more than 5,000 pairs of glasses have been made for RCSD students.
In addition, Newman created the program to teach high school students the necessary skills to make eye glasses and work as student-opticians at the Vision Care school clinics over the course of three years.
Year 1 is a fabrication course where the students learn how to make glasses and use the tools needed to manufacture the glasses.
Year 2 is a dispensing course where students work with patients and doctors and learn patient skills as the dispense glasses in a team setting.
Year 3 is a leadership course where students learn to manage the clinics and assist the school nurse as they perform visual acuities for RCSD students.
Students in the program collect college credits toward an optician degree at Erie Community College in Williamsville, New York.  Many students have gone on to obtain optician degrees from ECC while Newman has helped others obtain work as optical lab technician's right out of high school.
Nominees
Nominees for the Bonnie Strickland Champion for Children's Vision Award may include individuals (such as a parent advocate, legislator, or professional) or a group comprised of diverse stakeholders, including family and community leaders, who are implementing changes to improve children's vision and eye health in the United States.  The NCCVEH seeks nominations of individuals or groups who seek out new and innovative solutions to common barriers to healthy vision in children.  Nominees should be able to demonstrate an impact in one or more areas of a public health system supporting children's vision:
Key Stakeholder Engagement or Collaboration, including representation from families and diverse racial/ethnic/geographic and socio-economic levels target populations
Training and Education
Public Awareness
Provision of Resources and/or Services
Surveillance and Accountability
Reduction of Health Disparities
Infrastructure Development- Local, State, or National Level
Past Recipients
2019: Anne L. Coleman, M.D., MPH, UCLA Stein Eye Institute.  Dr. Coleman is the Fran and Ray Stark Foundation Professor of Ophthalmology at Stein Eye Institute of the David Geffen School of Medicine; Vice Chair, Academic Affairs, UCLA Department of Ophthalmology; Professor of Epidemiology in the UCLA Jonathon and Karin Fielding School of Public Health; Director of the Stein Eye Institute Center for Community Outreach and Policy and president-elect of the American Academy of Ophthalmology.
2018 Recipient: The Vision in Preschoolers (VIP) Study Group was recognized for its large multi-center, multi-disciplinary, clinical studies to evaluate preschool screening tests to provide data on the effectiveness of both traditional and technology-based tests for identification of preschool-aged children in need of a comprehensive eye examination for evaluation of amblyopia, strabismus and/or significant refractive error.
2017 Recipient: Sean P. Donahue, MD, Ph.D., Professor of Ophthalmology and Visual Sciences at Vanderbilt University.  Dr. Donahue was selected by the volunteer Bonnie Strickland Champion for Children's Vision Award Committee for his efforts to improve children's vision through stakeholder engagement, volunteer coordination, and advancement of vision screening technology.
2016 Recipient: The Illinois Eye Institute (IEI) at Princeton Vision Clinic based at the Illinois College of Optometry.  The IEI at Princeton was selected by the Bonnie Strickland Champion for Children's Vision Award Committee for its consistent and on-going commitment to addressing the unmet visual needs of Chicago Public School students.
2016 Honorable Mention: Vivian James, PhD, North Carolina Preschool Exceptional Children Coordinator for the Office of Early Learning – State Board of Education, Department of Public Instruction.  Dr. James was recognized for her exceptional work in North Carolina to improve vision screening systems as they relate to public health professional training as well as special education eligibility determinations.
2015 Recipient: The Pediatric Physicians' Organization at Children's (PPOC) based at the Boston Children's Hospital in Brookline, Massachusetts.  The PPOC was selected by the Award Committee for its consistent and on-going commitment to introducing proven and innovative new approaches to pediatric vision screening and care to providers and patients in the medical home setting.