Introduction
Socioeconomic and racial inequities impact all aspects of health care in the U.S., causing certain racial and ethnic groups to face increasing challenges to health and well-being.  Healthy vision supports early childhood development, school readiness, overall health, and lifelong well-being. Unfortunately, vision is also subject to disparities driven by social determinants of health. In fact, it has been reported that Latino and African American children were two to three times more likely to have unmet vision needs. Further, an analysis of children's vision disorders in 2015 with projected prevalence in 2060 indicates significant increases in visual impairment among preschool-aged Black, Hispanic, Asian-American, and multi-racial children.
Equity in vision health and development means ensuring that ALL children are born in optimal health, receive age-appropriate screenings, have access to quality eye health care services, and are able to maintain all necessary treatments for any vision impairment. By improving the continuum of care, including family and professional education, supporting the health care access needs of families, ensuring that eye care is culturally and linguistically appropriate, and establishing surveillance systems that track ethnicity and other social determinants of health, vision health equity can be achieved.
The Children's Vision Equity Alliance
The Children's Vision Equity Alliance (CVEA) was formed to advance equity in children's vision and eye health through education, access to care, policies, and partnerships. Initiatives target underserved Black, Indigenous and Latinx communities.
Mission: To advance equity in children's vision and eye health through education, access, policies, and partnerships.
Goal 1: Foster education about the role of vision in the learning, health, and development of children in the target population among communities, policymakers, funding organizations, healthcare providers, public health practitioners and educators, and parents/families.
Goal 2: Advocate for policies and practices to support equitable access to vision care for children, such as:
Developing strategies to decrease barriers in obtaining care
Addressing the lack of trust in the medical establishment
Promoting a diverse and inclusive community among eye care providers
Improving insurance coverage policies that support vision health
Advancing public health and educational policies
Empowering and enabling families to take action to support vision and eye health of their children
Goal 3: Develop partnerships to support healthy vision and eye health equity for children.
Alliance Approach
The Alliance focuses efforts in the areas of awareness and education of children's vision and eye health as well as research and data.  In 2021, the CVEA will conduct a public awareness campaign targeted to families, asking 5 questions that could help identify potential vision problems. Please share these messages:
American Academy of Ophthalmology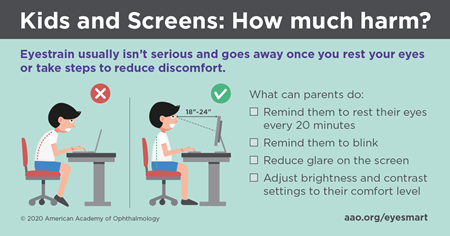 How the COVID-19 Lockdown Changed Children's Eyes
10 Child Eye Problems Parents Should Never Ignore
American Association of Pediatric Ophthalmology and Strabismus
Stephanie Marioneaux, MD, Chair
Donna Fishman, MPH, Vice Chair
Afua Asare, OD, PhD, MPH, Co-Secretary
Janet Alexander, MD, Co-Secretary
Janet Alexander, MD
Bani Antonio Aguirre, MD, MPH
Afua Asare, OD, PhD, MPH
Kira Baldonado, MPH
Premilla Banwait OD, FAAO
Sandra Block. OD, MPH, MEd
Geoffrey Bradford, MD
Ninita Brown, MD, PhD
Sara Brown, MPA
Patricia Davis, MD
Julie Grutzmacher, MSW, MPH
Scott Haber, MPA
Honey Herce, MD
Rebecca Hyder, MA
Stephanie Johnson-Brown, OD, MEd
Christie Morse, MD
Kay Nottingham Chaplin, EdD
Jean Ramsey, MD, MPH
Michael Repka, MD
Sherrol Reynolds, OD
Allison Summers, OD, FAAO, MCR
Graecinda (Cindi) Tedder, MSEd, BSE, BSN, RN
References
Varma R, Tarczy-Hornoch K, Jiang X. Visual impairment in preschool children in the United States: demographic and geographic variations from 2015 to 2060. JAMA Ophthalmology. 2017;135(6),610-616. doi:10.1001/jamaophthalmol.2017.1021
Zhang X, Elliott MN, Saaddine JB, et al. Unmet eye care needs among U.S. 5th grade students. American Journal of Preventive Medicine, 2012;43(1):55-58. doi:10.1016/j.amepre.2012.01.032